If you weren't at The United Center last night, you were missing out on one of the biggest celebrations of the night as Madonna performed her first show for her 2 nights in Chicago. Right when you entered stadium, there was neon, leather, lace, heavy eyeliner and 6 inch in heels scattered about everywhere. The crowds of people were diverse: women, men, white, black, Hispanic, Asian, gay, straight, transgendered, young and old. All of whom which were both reliving the good ol' days of their adolescence in the 80s and were ready to dance the night away. How does a woman of 54 continue to stay relevant to many generations and gives the Gagas and Perrys a run for their money? Well, because she "is the queen – bitch," according to Nicki Minaj. 
The MDNA tour is an artpop performance shock show that encompasses the "journey of a soul from darkness to light." Fans will see the many characters that Madonna has created to reinvent herself that has allowed her to stay relevant to new generations. This tactic of rebranding through characterizations is seen frequently in today's pop stars, from Britney, Gaga, Perry and Minaj. There has been a long going debate about how Gaga's thematic choices are copies of Madonna. After seeing this show, you will definitely see points of references that are indeed copied from Madonna: the pyrotechnic corsets has been redone by Gaga and Katy Perry, the rebranding sadomasochistic style of Rihanna and religious church themes from Gaga and Minaj. So what does Madonna think of all this? "Imitation is the biggest form of flattery."
What makes Madonna different from the other pop artists is that she has messages behind her artistic choices even if they can be complex to understand at times. She is also highly technical and thinks every minor detail through. From the costume changes, visuals, light shows, choreography, to how the set list transitions – every intricacy and movement has a purpose. Now, the tickets for her show are anything but affordable – but the high quality of the production is quite phenomenal. Madonna has noticed the trend of our heavily embedded technological age and utilizes it to her full advantage by creating visually stimulating images and video montages on three expansive LED screens that allow the audience to emerge into her artistic realm – which can be quite eerie at times. She also used product placement in her show when dancing with the popular Beats by Dre headphones as props during a choreography segment.
The show opened up with a crucifix and an electrified church with Madonna's voice over chanting, "Oh My God" in a sultry voice that Gaga imitates.  Dancers emerged as priests in robes and gargoyle statues. Madonna is behind a white screen praying and busts through the screen as the LED screens crash. Madonna then transitions into dominatrix with a tight leather outfit and prances around the stage with a fake revolver like she's in an Angelina Jolie action flick while singing that she's a "Girl Gone Wild." Her dark period becomes morbid as she enters a Motel prop set and sings her explicit lyrics about how she murdered her lover. The LED screens show a rearview of a car driving frantically through the woods to bury the dead body. As Madonna sings "Bang! Bang!" while fake shooting her dancer, the LED screens display the blood of her lover spurted across the screen with gushed body parts. It's brilliantly grotesque and makes you feel quite uncomfortable. What the hell is going on?! Is this a Marilyn Manson show? 
She lightens up the mood in "Give Me All Your Luvin" with an upbeat dance number that is reminiscent of Gwen Stefani's "Hollaback Girl." There are bold visuals of color, vibrant band costumes and drum marchers that play hanging from the ceiling as Madonna prances around as the bandleader followed by her cheerleaders.
Another highlight of the night included Madonna singing a mashup of "Express Yourself" and "Born This Way." Afterwards she talked to the crowd about how we all need to treat each other with "respect and dignity." "You don't need to be Oprah to change the world, you don't need to be me, just be you!" she preached to the arena.  She continued, "and if you want to change the world, Don't vote for Mitt Romney!" The Chicagoans cheered as they supported their former senator.
Fans come for the hits and unfortunately she didn't give it to them. Instead, she did a video montage that mashed up all of her music videos. She did a carefree performance of Holiday while strumming inaudible chords on her guitar and also performed a dramatic ballad version of "Like A Virgin" which proceeded in her stripping her clothes off in true Madonna fashion. The Queen culiminated her journey through spiritual Basque music, a gospel choir during "Like A Prayer," and ended in a "Celebration." Madonna has paved the way for female pop artists and has pushed the envelope for female artists to create avant garde and controversial art that is considered risqué for women to portray in our society. Madonna is a girl gone wild and she's not changing for anyone.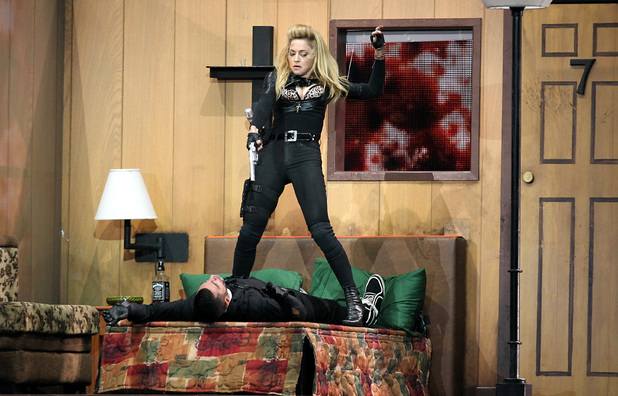 SET LIST:
Opening Prayer /Girl Gone Wild 
Revolver 
Gang Bang 
Papa Don't Preach 
Hung Up 
I Don't Give A 
Best Friend / Heartbeat (Interlude) 
Express Yourself / Born This Way 
Give Me All Your Luvin' 
Turn Up the Radio 
Open Your Heart 
Masterpiece 
Justify My Love (Interlude) 
Vogue 
Candy Shop 
Human Nature / Erotica 
Like a Virgin 
Nobody Knows Me (Interlude) 
I'm Addicted 
I'm a Sinner 
Like a Prayer 
Celebration 
Posted on September 21st at 10:21 AM
Tagged as: madonna. chicago. music. pop music. lady gaga. nicki minaj. britney spears. katy perry. pop stars. united center. mdna tour.

brokengrace reblogged this from cassienegronmusic